Welcome from the Principal
St. Mary School is a TK through 8th grade Catholic elementary school located in Walnut Creek, CA. The school was founded in 1960 by the Sisters of Providence to provide a rich tradition of educating future leaders. With the support of the St. Mary School community, this tradition continues where students form their moral compass, achieve their highest academic potential, and serve others to create a better world.
At St. Mary School, we offer a robust academic program and a faith-filled community service focus for our 21st century learners. We provide an innovative learning environment, various types of enrichment programs such as Art, Spanish, and music, a challenging curriculum, and the caring commitment of the teachers and staff. Students receive support through differentiated instruction, a one to one technology device program, a learning center, study skills classes, a counseling program, and instructional assistants in all grades. These are some of the reasons why our families continue to partner with us to assist the St. Mary School mission.
We believe children thrive in a joyful, safe, Christ-centered and nurturing environment. It is our mission to guide and support our students as they become lifelong learners, spiritual leaders and accomplish their current and future goals.
I invite you to visit our school and see this hidden gem in Walnut Creek!
Sincerely,
Mr. Garrett Padia
Principal
gpadia@ csdo.org
Our Mission
St. Mary of the Immaculate Conception School is a Catholic school in the Diocese of Oakland, which educates children in the Catholic FAITH and nurtures their minds, bodies, and souls, INSPIRING them to live the GOSPEL of Jesus Christ, achieve their highest ACADEMIC and creative potential, and actively SERVE and enrich the COMMUNITY.
Our Philosophy
St. Mary of the Immaculate Conception School is a faith-based community consisting of clergy, staff, parents, and students who work together to foster the teachings and traditions of the Catholic Church. In partnership with parents, the school is committed to academic excellence and to educating the whole child: spiritually, academically, socially, physically and culturally.
The school provides a safe, secure, and welcoming environment that promotes a sense of self-worth and an acceptance of others as children of God. Each child is a unique gift from God with unlimited potential making the primary mission to nurture and develop students who are lifelong learners, independent thinkers, globally aware citizens, helpful and respectful individuals, and thoughtful Catholic leaders.
WCEA Accredited
St. Mary Catholic School in Walnut Creek, Contra Costa Bay Area is proud to be an WCEA-WASC accredited academic institution. Further information about this accreditation can be found in the attached documents.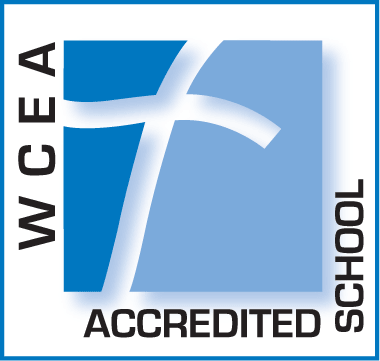 More Links and Information